Home
»
Products
» 2 & 3 Phase Separators
2 & 3 Phase Separators
Separators are mechanical equipment utilized to separate free liquids from natural gas.  To achieve separation, separators use one or more of the following principles:

Momentum
Gravity Settling
Coalescing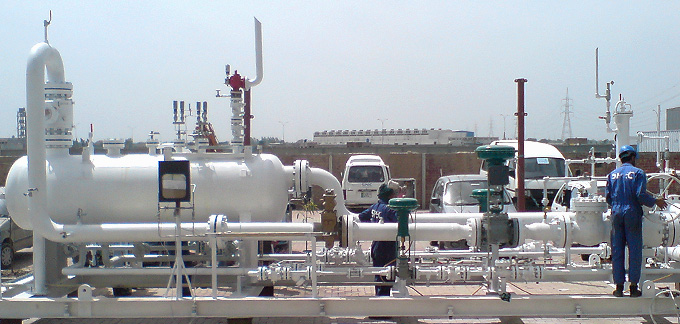 Besides the capacity of the incoming liquids and gases, the following fluids characteristics will determine the appropriate separator design:
Gas to Liquid Ratio

Differences in the density between the gas and liquids as well as the differences in density between the liquids

Differences in viscosity

Operating Temperature and Pressures

Particulate Size

Presence of H2S or CO2

Slug Volumes
Separators are supplied in two major orientations: vertical and horizontal and either as two or three phase separators.  Each orientation provides operational advantages and selection is based on the specific application.
Process Description
The first step of separation begins as the process fluid enters the separator and makes contact with the inlet devise.  The inlet devise is used to reduce the momentum of the inlet stream which serves as the first stage in the separation process.  The main inlets devises utilized are diverter plates, half pipe and cyclonic.  After the initial bulk separation caused by the inlet momentum breaker, the fluids velocity is further reduced by the increased cross sectional area allowing the liquid particles to drop to the liquid accumulation section.  Any liquids which are not removed from the gas stream from the first two stages of the separation process are removed via mist extractors installed before the gas outlet nozzle.  There are several different types of mist extractors utilized.  The liquid is accumulated in the liquid accumulation sections with an appropriate retention time (typically 1 min for two phase separators and 3 min for three phase separators).  
While in two phase separators the liquid accumulation section is common for both liquids, in three phase separators have an additional liquid accumulation for the separated oil.  All the separator packages come with the appropriate controls for gas and liquid (interface liquid control as applicable) as well as additional instrumentation for pressure, temperature, level gauges and safety devices.  The separator packages are all modularized to contain the separator and instrumentation within a common package for easy installation and operations.  In addition to the standard instrumentation, SPEC also offers customized solutions such as sand jetting system, heating coils, heat tracing, NACE compliant equipment, wave breakers, offshore installation compliant design etc. SPEC has a wide range of standard equipment offering as well as customized packages designed specifically for the client's process requirements and inline with client's specifications.